WELCOME
Welcome to Phatman Boardshop. We are a Skate and Snowboard Shop right outside the city of Buffalo in the town of Tonawanda. We have been serving up the Western New York region with the widest selection of Skateboard and Snowboard goods since 1994. Our aim is to push and support both the skating and snowboarding community to its fullest.
It doesn't matter if you're getting back into snowboarding or skating, or just looking to buy a new pair of shoes, we have everything you'll need. Our shoe wall has almost 100 shoes to choose from including Vans, Adidas, Emerica, Lakai, Nike SB and more. Moreover, we take pride in being the premier snowboard and skateboard shop in Western New York. So much so that we won Artvoice's Best Snowboard Shop in 2015. In 2017 Best Things New York ranked us #4 in The 10 Best Skate Shops in New York. The combination of a diverse selection of snow and skate products, knowledgeable employees, and a laid back manner has allowed us to develop a long-term repertoire with the Buffalo-Niagara region and its people.
We can be found on Sheridan Drive right near the intersection of Sheridan and Eggert Rd. Feel free to look around the site, check out some videos and read our poorly kept up blog. Contact us or call the shop if you have any questions, want information or wondering what we have in stock, 716-837-8743. Like us on Facebook, follow us on Twitter and Instagram too. Cheers.
Blog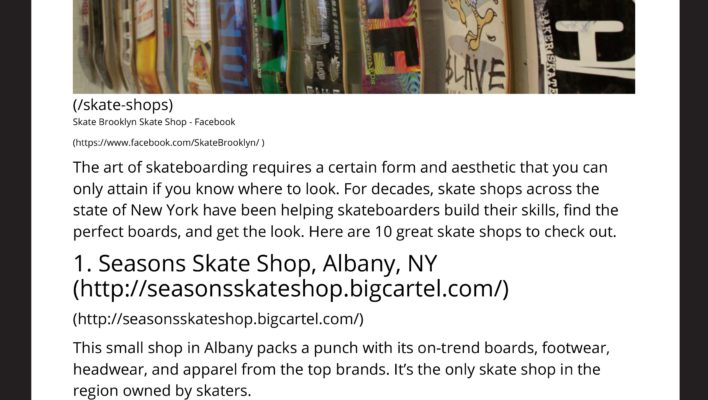 Check it out… Best Things New York ranked us #4 in NYS Skate Shops. Phatman Boardshop has been providing Buffalo and the Western New York area with skateboarding necessities since 1994. From larger brands you know to new, smaller companies that are bringing an entire new vision and creativity to skateboarding. We are always updating […]
Sign Up for Shop & Product Updates