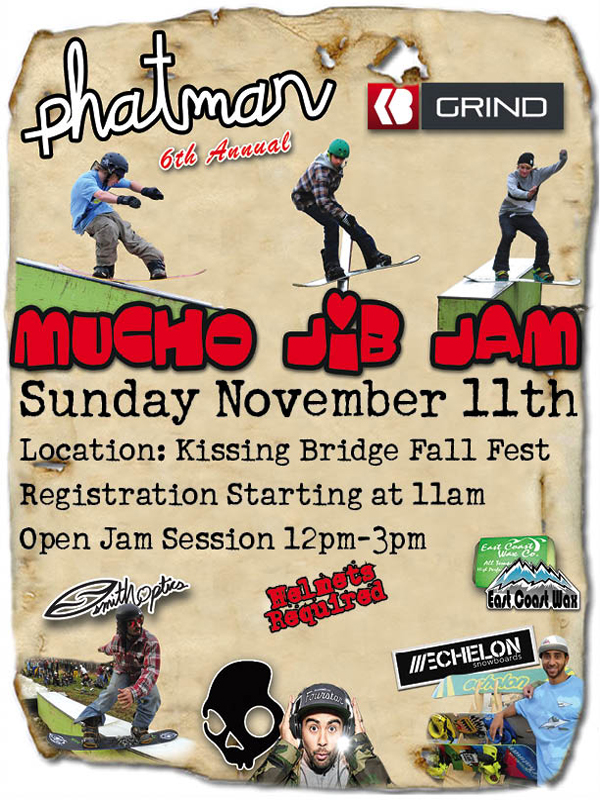 It's that time of year again, we are calling out all of our Jibbers to attend the PHATMAN 6th Annual "Mucho Jib Jam 2012" which will be held at the central location of Kissing Bridge.
Show up early and register NOVEMBER 11th, to ride on some rails and boxes, snow will be hauled in from a local ice skating rink.
It's going to be an OPEN JAM style, top riders will be called out throughout the event winning single Prizes and some Prize Bundles.
There is a great chance  you will walk away with at least a Phatman Tee if you Join The Event on our Phatman FB Page at http://www.facebook.com/events/426522300763035/  and register at KB!
Please check us out on facebook and join the event, this is the best way to show our sponsors (Echelon Snowboards, Smith Optics, Skullcandy and East Coast Wax) we realy appreciate and support their brand!
PHOTOGRAPHERS & VIDEOGRAPHERS are welcome to sharpen your action imagery skills by shooting the best riders in WNY and East Coast! Share your images on our Facebook and gain notoriety of your skills! Put together a video, post it online branded as "Phatman Mucho Jib Jam 2012", best videos will be awarded a Phatman Tee and a chance to win and in store gift certificate.
Check out some archive videos of  previuose PHATMAN MUCHO JIB JAMS.
http://www.youtube.com/watch?v=kqRspI45OeY
http://www.youtube.com/watch?v=7blxRwXOwPs
http://www.youtube.com/watch?v=UsPY12t_HOM
http://www.youtube.com/watch?v=rf7M0HVrMLw&feature=related
http://www.youtube.com/watch?v=bCHWWFFMoNM&feature=related