We all have dreams and ambitions. Firefighter, Entrepreneur, Pet Store Owner…etc. But dig deep down and find your inner bum. There's a part of all of us that wants to get up and go to a resort town to bum it for a few years, hell, maybe even life if you're committed. Living the life of riding 60+ days a year and eating a combination of ramen, free soup crackers and tap water really doesn't sound so bad. So how come you haven't got up, packed a few pairs of underwear and your board and left town yet? Maybe because of financial stress? Credit card bills? Girlfriend? Forget about that stuff and live the dirtbag life. Here's 5 Reasons why.
You get to ride all season long at Resort. Granted you bought a season pass. And if you didn't, well you just made the biggest mistake of attempting be a bum in a resort town.
Your new job is probably pretty simple. If you're living in a resort town, get a job. We're not talking some crazy super responsible job but every restaurant needs a dishwasher. It'll pay for your seasons pass if you save up and sometimes you can even work at the mountain's restaurants.
You have no real residence which means no more credit card bills! Crash on some guy's couch or get an apartment if you want to be fancy.
Showers? Never heard of 'em.
Older Resort town ladies buy you beer. Maybe more if they're feeling frisky. Hey, who ever said having a sugar mama was a bad idea?
So there's 5 pretty convincing reasons to leave your 9-5er behind and go enjoy the freedom of living the snowboard bum life. You might even get lucky and make friends with a guy who happens to run a company that they need a waterboy for and boom, endless product and a weekly paycheck for life.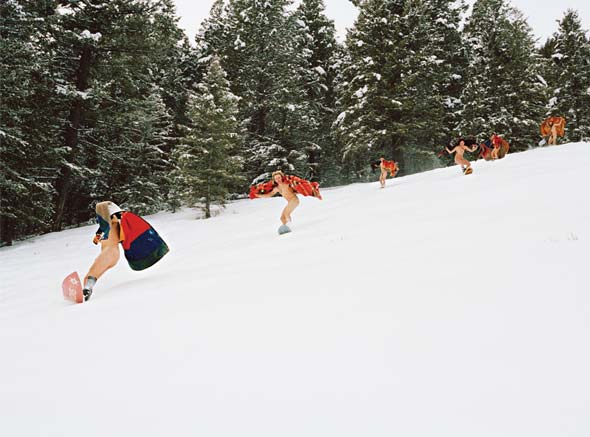 This could be you. Naked, Shredding, and full of life. 
In other news, did you get a chance to see Trickapedia today? I mean it is Tuesday. and Andrew Reynolds is up at the plate. Serving up a Nollie Frontside 360. Click here to watch. And if you haven't seen this yet, well, you're just living underneath a rock cause you can hate him but god dammit, you better respect him. Nyjah Huston's Fade to Black.
If you don't know, now you know…Our dear friends at Flour City Distribution have released an edit. They're our dealer for ThirtyTwo, Coal, Capita, Union & Crab Grab! Also they offer Howl and Ashbury and Poler Stuff. Check this shit out. Solid edit with some up & coming young bucks. Boom shaka laka.